"Lips of Steel" is David's new book of 22 endurance etudes, with his own daily warm-up and embouchure conditioner.
Playing with musicality while maintaining power, sound, and projection is a vital aspect of trumpet technique that is rarely addressed. This book will help you get all the way to the end of a piece with strength, resilience, and more still remaining for that last note!
"Lips of Steel" is available in the U.S. from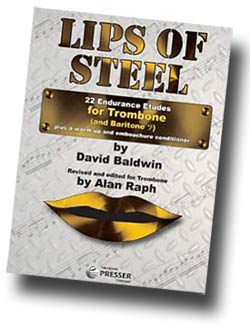 "Lips of Steel" has been revised and edited for Trombone and Baritone (bass clef) by Alan Ralph, and is also widely available.
"Lips of Steel" is available in the U.S. from