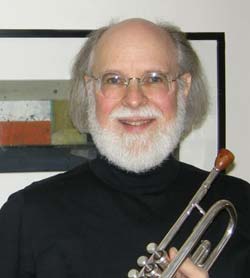 David Baldwin is the renowned trumpet teacher, performer, and brass arranger from the University of Minnesota.
DAVID IS RETIRING FROM HIS UNIVERSITY TEACHING POSITION THIS COMING MAY! WATCH FOR SPECIAL EVENTS COMMEMORATING HIS 44 YEARS OF ARTISTRY AND SERVICE.
David is well known for his recordings of the etudes of Charlier and Bitsch, released in 1992 by the International Trumpet Guild.
He has also recorded etudes by Arban, Caffarelli, Charlier (1999), and more recently, studies by Walter Smith, J. L. Small, and Louis Antoine St. Jacome.
Outside music, he is an active calligrapher, and has had a number of sponsored shows of his art.
"Lips of Steel" is David's new book of 22 endurance etudes, with his own daily warm-up and embouchure conditioner.
This book will help you get all the way to the end of a piece with strength, resilience, and more still remaining for that last note!
Buy David's book online from Theodorer Presser Co. or look for it in your local music store.