* Summit Hill BQ CDs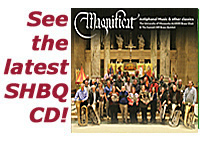 The Summit Hill Brass Quintet

The Summit Hill Brass Quintet has performed in the Minneapolis/St. Paul, Minnesota, area since 1977. Their unique repertoire includes a large number of works by J.S. Bach, contemporary works by Etler, Reynolds, Bozza and others (including Baldwin), and many popular song arrangements.
The soundtrack excerpt files below

are between 0.5 and 1.5 megabytes.
Music for Al's Breakfast
1. Coffee?
2. Whole Wheat Wally Blues
3. Es B & OJ
4. Ugly Bacon
5. Have a Nice Day March
6. More Coffee?
7. Two Scrambled with Cheddar
8. Three Poached on a Round
9. Spike March
10. Here, Eat This!
11. Decaf or Regular?
12. Americans on the Side
13. A Bacon Waffle
14. Hash Browns with Ketchup
15. Al's Forever (Vern Sutton, tenor)
16. Coffee, Tea, or a Banana
17. The Special
18. Eat Your Load and Hit the Road

Listen to Here, Eat This!

The music on the CD is a tribute to the 14-stool hole-in-the-wall restaurant in Dinkytown, adjacent to the University of Minnesota campus. Euphonium soolist Thomas Ashworth is featured on the last tasty cuts on this album. Baldwin is a regular at Al's Breakfast, and the Summit Hill Brass Quintet plays an outdoor concert there every spring. They get a free breakfast.

---
American as Apple Pie
1. Bugler's Holiday
2. Old American Songs
3. Impressions of a Parade
4-7. Four Movements for Five Brass
8. Tarantella
9-12. Digressions for Brass Quintet
13. Old American Songs, Volume II
14. A Black Smoke
15. Fairest of the Fair
16. The Circus Bee
17. Tournament Galop
18. Bethena: a Concert Waltz

Listen to Bethena: a Concert Waltz
Yes, that's David and his mom on the cover! This wonderful music is mostly from the early 1900s, but there are a few from the 1950s and '60s, including Samuel Baron's ingenious and stirring "Impressions of a Parade."

---
Old American Songs
1. General Mixup USA
2. Old American Songs, Volume III
3. The Volunteer
4. The Two Friends
5. My Old Kentucky Home
6. Music of the Civil War
Concerto for Al's Breakfast:
7. I. Coffee, Tea, or a Banana?
8. II. The Special
9. III. Eat Your Load and Hit the Toad
Notes for Brass Quintet:
10. I. Scherzo
11. III. Walts
12. IV. Marching Banned

Listen to Hello Ma Baby
(from Old American Songs)
Lee Dummer, Dave Hagedorn, and Pam Humphrey join the SHBQ for the 41 songs, calls, and ditties on this album. The title track is an 18-song medley of tunes that will be familiar to most Americans (over a certain age!).

---
Sugar Plums
1. Joy to the World
2. For Unto Us a Child is Born
3. Deck the Halls
4. Santa Claus is Coming to Town
5. O Come All Ye Faithful
6. Jingle Bells
7. Swingle Bells
8. Christmas Garland
9. Two chorales: Christmas Oratorio (12, 17)
10. Sicut locutus est from Magnificat
11. Fear Not, For I Bring You tidings of Great Joy
12. Medley: Hark! The Herald Angels Sing, O Christmas Tree, The First Noel
13. Now the Time is Fulfilled
14. O Come, O Come Immanuel
15. Gesu Bambino
16. God Rest Ye, Good King Wenceslas
17. God Rest You Merry, Boys and Girls
18. Three Galliards
19. Two chorales: Christmas Oratorio (5, 33)
20. Away in a Manger
21. March of the Kings
22. Let It Snow, Let It Snow, Let It Snow
23. Two Chorales: Christmas Oratorio (35, 48)
24. Silent Night
25. We Wish You a Merry Christmas

Listen to Here We Come A'caroling
Finally, a Christmas CD! And this one has the songs you'd expect, but it also has gems like "Now the Time is Fulfilled" and "Swingle Bells" as well as a sublime rendition of Gesu Bambino. It's all backed up by the great percussion of Dave Hagedorn.

---
Christmas Up North
1. Carol of the Bells
2. O Holy Night
3. Medley: O Come All Ye Faithful, The First Noel, Herk! The Herald Angels Sing
4. Ave Maria
from The Messiah:
5. Overture
6. II. Overture
7. III. Every Valley
8. IV. And the Glory of the Lord
from Suite of Dances:
9. Honie-Suckle
10. Wanton
11. Amoretta
12. Nec Invideo
13. The Night Watch
from The Messiah:
14. XXV. And with His Stripes We are Healed
15. XXVI. All We Like Sheep, Have Gone Astray
16. XXVII. All They That See Him
17. XXVIII. He Trusted in God
18. It Came Upon a Midnight Clear and We Three Kings
19. Coventry Carol and Lo, How a Rose
from The Messiah:
20. LIII. Worthy is the Lamb and Amen

Listen to Carol of the Bells
David has always bee fascinated by the Messsiah because of its continued immense popularity since its creation in 1742. Even though eight of the nine movements included here are for vocal soloists or full chorus, Baldwin feels "it makes for more powerful music when transcribed for brass alone." You may just find yourself agreeing with him.

---
Bach and Mozart
J.S. Bach: Conc'to No. 1, BWV 972 (after Vivaldi)
1. Allegro
2. Largo
3. Allegro
W.A. Mozart: Quintet in G Major, K. 515
4. Allegro
5. Menuetto
6. Andante
7. Allegro
J.S. Bach: The Italian Concerto
8. Allegro
9. Largo
10. Presto
W.A. Mozart: Salzburg Sinfonie, K. 136
11. Allegro
J.S. Bach: Sonata No. 5 in C Major
12. Allegro
13. Adagio
14. Allegro

Listen to the Adagio from Bach's 5th Sonata
Antonio Vivaldi wrote hundreds of wonderfully crafted concertos, and a young Johann Sebastian Bach learned a great deal from copying many of those concertos. Bach added new melodic lines and more virtuosic rhythms.
While the quintet members thought that playing Mozart's 29-minute-long Quintet in G Major on brass instruments was an unnatural act, they felt it was well worth the effort. After all, it is some of the greatest music ever written.

---
Mozart and Bach
W.A. Mozart - Divertimento
1., 2., 3.

J.S. Bach - Prelude and Fugue in C Minor
4., 5.

J.S. Bach - Prelude and Fugue in D Minor
6., 7.

W.A. Mozart - Quintet in E-flat Major
8., 9., 10., 11.

J.S. Bach - Toccata and Fugue in F Major
12., 13.

J.S. Bach
14. Sonfinia from Cantata No. 29

Listen to Vivace from the E-flat Quintet
This is the ninth CD the Summit Hill Brass Quintet has made. The group has enjoyed playing this virtuosic and significant music for many years. The group's goal is to have as much fun with music as possible, and they have been pursuing that goal relentlessly, while striving to present some of the world's best music in new and exciting ways as brass music.

---
Renaissance and Romance
1. Victorious Love - Gastoldi
2. Newark Seige - Jenkins
Suite of Madrigals - Morley
3. Now is the Month of Maying
4. My Bonnie Lass She Smileth
5. See, Mine Own Sweet Jewel
6. Go Ye, My Canzonets
7. Fire, Fire!
8. The Last Spring - Greig
Three Madrigals - Wilbye
9. All Pleasure is of This Condition
10. Sweet Hony Sucking Bees
11. Yee That Doe Live in Pleasure's Plenty
12. Rhosymedre - Vaughan Williams
Consort Music
13. Courtly Masking Ayre - Adson
14. Pavane - Gervaise
15. Fantasia - Coperario
16. Pavane - Fauré
Suite of Dances - Holborne
17. Sic Semper Soleo
18. Paradizo
19. The Sighes
20. Posthuma
21. The Spitfire - Walton
22. Salut d'Amour - Elgar
Old American Songs
with the St. Anthony Brass Quintet
& percussionist David Hagedorn

Listen to The Last Spring

Listen to the Old American Songs excerpt
This CD presents some of David's favorite transcriptions, done over a period of 40 years and performed by the SHBQ for weddings, graduations, and concerts. Music of the Renaissance sounds particularly good on modern brass instruments, the sounds of which may very closely reflect composers' original intentions. Romantic period gems on this CD are from Elgar, Greig, Vaughan Williams, Fauré, and Walton. Members of the St. Anthony Brass Quintet have joined the SHBQ many times for church services and concerts, and this is their first recorded release together.

---
Christmas in Minnesota: Warm thoughts
1. Halleluiah from Messiah - Handel
2. Christmas Song - Torme
3. A Quintet of Carols: Up on a Housetop;
Santa Claus is Coming to Town;
Jolly Old St. Nick;
O Little Town of Bethlehem;
Go Tell It on the Mountain
4, 5. Prelude & Fugue in D Major, BWV 532 - Bach
6. The Twelve Days of Christmas - Austin
7. Medley: The Holly and the Ivy; Silver Bells;
The Little Drummer Boy
8. Bass Aria from the Christmas Oratorio - Bach
9. Angels - Seven Christmas Carols:
Angels We Have Heard on High;
Angels From the Realms of Glory;
Good King Wenceslas;
O Come, O Come, Emmanuel;
In the Bleak Midwinter;
Away in a Manger; Silent Night
10. A Pair of Carols: Bring a Torch,
Jeanette Isabella; We Three Kings
Concerto No. 5 in C Major, BWV 976
- Vivaldi/Bach
11. Allegro
12. Largo
13. Allegro
14. The Trumpet Shall Sound - Handel
15. Chorale No. 64 from the Christmas Oratorio
- Bach


Listen to A Quintet of Carols excerpt
Dave Baldwin said of this CD, "The transcriptions and arrangements included here have been done over a long period of time and it is extremely satisfying to finally hear them as I imagined - or even better with Dave Hagedorn's improvised percussion stylings! My sincere heart-felt thanks to the other members of the Summit Hill Brass Quintet for their musicianship and dedication to this project."